Contractual language training and integration of adult migrants: what relevance to the training obligation?
Formations linguistiques contractuelles et intégration d'adultes migrants : quelle pertinence à l'obligation de formation ?
This thesis questions the pre-requisite of both education and learning as essential (and thus, mandatory) to the integration of adult migrants. This research focuses mainly on migrants and trainers confronted with the French training obligation program. Since 2005/2006, a linguistic training has been imposed to the different categories of migrants by two successive politics (the Reception and Integration Contract in 2006, than the Republican Integration Contract since 2016). This training for adult migrants is supposed to guarantee their integration. I offer to question the logic of these dispositives : which arguments, representations or ideologies are set in place? And what issues were not thought ? How relevant is this mandatory program for those involved ? These elements of interrogation will be studied by a crossed interpretation of historical, legislative, research, institutional and political data, and from the formative field. The several surveys conducted among migrants and trainers shed light on various and reflexive receptions of the instituted integration. They clarify unthought elements about the training process. While reconsidering different areas of relevance to a linguistic training obligation, this thesis explores leads that would allow migrants more control over the targeted processes
Cette thèse interroge l'idée selon laquelle l'enseignement-apprentissage du français constituerait un préalable indispensable (et donc obligatoire) à l'intégration d'adultes migrants. L'angle privilégié est de s'intéresser à des migrants et formateurs confrontés à l'obligation de formation en français. En effet depuis 2005/2006, deux politiques successives (le Contrat d'Accueil et d'Intégration en 2006, puis le Contrat d'Intégration Républicaine à partir de 2016) imposent à différentes catégories de migrants de suivre une formation linguistique considérée garante de leur intégration. Je propose d'interroger les logiques que ces dispositifs concrétisent : quels arguments, représentations ou idéologies y sont mobilisées ? Pour quels impensés ? Quelle pertinence l'obligation de formation a-t-elle pour ses acteurs ? Ces questions sont abordées par l'interprétation croisée d'observables historiques, législatifs, institutionnels et politiques, de recherches, et issus du terrain formatif. Les enquêtes menées auprès de migrants et de formateurs mettent en lumière des réceptions diverses et réflexives de l'intégration instituée, éclairant des éléments impensés dans ce cadre formatif. Tout en reconsidérant différentes zones de pertinences à une obligation de formation linguistique, cette thèse explore des pistes qui permettraient de redonner aux migrants davantage de prise sur les processus visés.
Fichier principal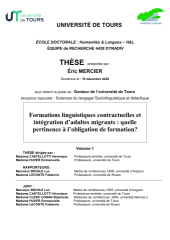 Thèse Eric Mercier volume 1 et 2.pdf (9.01 Mo)
Télécharger le fichier
Origin : Files produced by the author(s)